Our Firm Is Proud to Be Active Members of Both the Legal and Public Community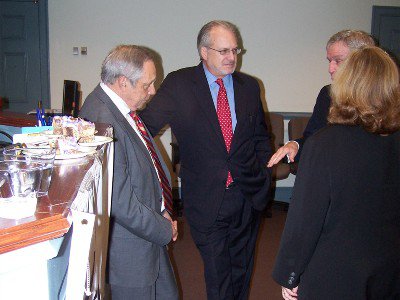 David Sher and Mark Cummings serve as trustees for the Vicky Collins Charitable Foundation, which provides grants and resources for indigent, disabled children. Since its inception, the Foundation has awarded over $1.8 million dollars in grants to help disabled children in the Washington Metropolitan area. Among its donees are Arlington Pediatric Center, Court Appointed Special Advocates (CASA), Stop Child Abuse Now (SCAN), and Doorways. In 2013, David and Mark received recognition as Outstanding Foundation Partners from the National Capital Philanthropy Association.
Mark Cummings has volunteered actively within the legal community. He has served as both Director and President of the Arlington County Bar Association and was a member of the Association's Judicial Selection Committee from 1993 to 2002. Mark is past Chair and currently serves on the Board for the Arlington County Bar Foundation. Mark represented Arlington on the Virginia State Bar Council for 17 years and has worked with the Virginia Trial Lawyers Association as a member of their Board of Governors since 2001. He also serves on the VTLA Judicial Selection Committee. Mark was recently selected by the Virginia Supreme Court to serve on the faculty of the Virginia State Bar's mandatory professionalism course. In the past, he has been recognized for his pro bono representation of indigent clients, and in 2005 received an award for outstanding fundraising to benefit the Muscular Dystrophy Association. Mark currently volunteers as a basketball coach for the Catholic Youth Organization and has been coaching since 2012.
David Sher has served as Chair for the Arlington County Continuing Legal Education Committee for six years and was a member of the Virginia State Bar's Disciplinary Committee for the 17th Circuit, where he served as both Vice-Chair in 2004 and Chair from 2005 to 2006.
Every month, David and Mark are featured speakers at the Arlington County Juvenile and Domestic Relations District Court's Juvenile Drivers Licensing Ceremony, where new teenage drivers receive their licenses with their parents in attendance.
Sher, Cummings and Ellis Is Proud to Support the Following Organizations:
Arlington County Bar Foundation

Fairfax County Bar Association

Arlington County Bar Association

Virginia Trial Lawyers Association

Cherrydale Volunteer Fire Department

Walter T. McCarthy Law Library

Antonin Scalia Law School


We Believe in The Importance of Volunteer Work and Giving Back.