PERSONAL INJURY LAWYERS IN ARLINGTON, VIRGINIA
No one prepares to be in an auto accident, slip and fall on an icy sidewalk, get bitten by a dog, or fall victim to medical malpractice. If you've been in an accident that was caused by the act of negligence or carelessness of another party, you may be entitled to compensation.
To increase your chances of a satisfying settlement, you need to hire a team of attorneys with decades of experience under their belt. Sher, Cummings and Ellis is committed to their clients' success and has helped countless clients throughout the Arlington, Virginia area with their personal injury matters. Schedule a consultation now to get started, but there's important information you must know before seeking reimbursement for your pain and suffering.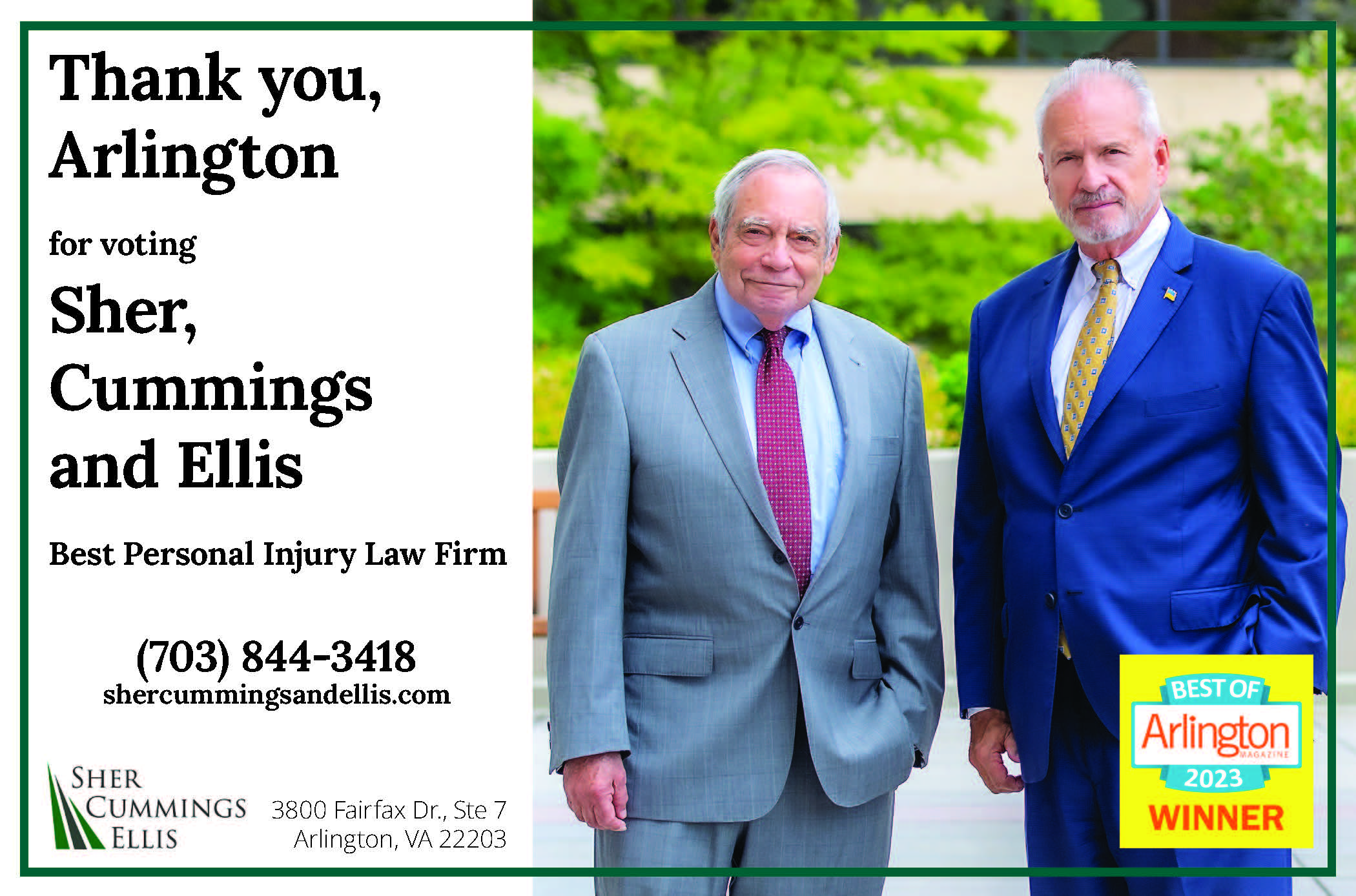 How Do You Know if You Have a Personal Injury Case?
There are many instances where the person injured has a right to file a lawsuit against the person who injured them, but how do you know if you have a chance at receiving compensation? There are three basic requirements for this to happen. You must prove that:
The responsible party was careless or negligent.

The negligence caused your personal injury.

The injury resulted in harm (compensatory damages).
Some cases may be blurry as to whether or not you have grounds for a lawsuit, so you should meet with a skilled personal injury attorney. During your first consultation, you will get to know your attorney and explain your situation to them. They will then evaluate your circumstances and discuss with you whether a lawsuit is your best option.
What Damages Can I Receive?
When you're injured, you are likely faced with mountains of medical expenses to help you get back to health, but you can receive compensation for more than just hospital bills. Should you receive reimbursement, you could receive one or both of the following: economic damages and non-economic damages.
Economic Damages
Hospital bills in Arlington and beyond fall under economic damages because they are tangible and can be easily quantified. The following is a list of economic damages you could receive as a result of your injury:
Medical expenses related to the accident, which could be previous or future

Lost earnings when you could not work as a result of your injury

Lost business opportunities

Costs for repairing or replacing damaged property
Because these damages are tangible, it's important to keep all hospital or mechanic receipts as well as pay stubs to prove income. Unlike economic damages, non-economic damages are a little more difficult to keep track of and obtain from the party at fault.
Non-Economic Damages
Your injury, especially if it's catastrophic like paralysis, can have a long-lasting impact on not only your finances because of medical equipment or rehabilitation, but can take a large toll on your mental health or overall happiness. This is where non-economic damages come in. Common examples of non-economic damages are:
Pain and suffering

The injury itself

Disability

Loss of companionship

Loss of one's reputation

A decrease in the enjoyment of life
This type of reward is not quantifiable, meaning it's a little more difficult to measure the effect they've had on your injury. Because of this difficulty, it's important to work with a knowledgeable attorney that has experience with personal injury cases like yours.
Is An Attorney Really Worth It?
You may have heard that the attorney's fees required for personal injury representation aren't worth the settlement. On the contrary, it is rarely the wrong decision to hire an attorney to guide you through the process and help you earn the largest settlement possible.
Personal Injury Attorneys in Arlington, Virginia
The attorneys at Sher, Cummings and Ellis have several decades of experience helping people seek compensation for a variety of personal injury matters. If you live in Arlington, Virginia or the surrounding communities throughout Loudoun & Fairfax counties, schedule a consultation with a skilled legal team.